Ginkgo biloba L.
(source: M. Michalak, Botanical Garden Geopark Kielce)
The history of using herbs in cosmetics is as long as the history of civilization. Currently, there is a large international demand for the development of anti-aging, UV protective, skin lightening, and moisturizing natural skincare products. The global natural personal care products market is growing and consumers prefer (consumer-driven growth) nature-based as opposed to synthetic-based products that follow more environment friendly philosophies. In fact, the world is experiencing a startling paradigm shift where the natural-based cosmetic landscape is growing rapidly. Market research indicates that the US botanical/nature-based personal care market is expected to exceed $7.7 billion by the year 2025. This consumer-driven growth has prompted large companies to invest billions in plant research and development so that the natural product's niche can keep up in terms of efficacy.
Botanicals contain many biologically active compounds important for cosmetology, such as polyphenols (flavonoids, anthocyanins, phenolic acids, tannins), plant oils (providing essential fatty acids (EFAs), phospholipids, phytosterols), mucilages, pectins, azulenes, saponins, essential oils and vitamins (tab. 1).
Table 1. Raw materials of plant origin as ingredients of cosmetic preparations
| Biologically active compounds | Application in cosmetology |
| --- | --- |
| flavonoids | care products for all types of skin, especially couperose, dry, and mature |
| phytoestrogens | anti-age cosmetic products |
| phospholipids | the ingredients of protective cosmetics, delaying skin aging processes; they act as so called skin penetration promoters |
| EFA | ingredients of moisturizing, anti-aging, protective and anti-inflammatory products |
| mucilages and pectins | products for dry and sensitive skin prone to irritation and allergy ; creams, lotions, masks; used as thickeners in the production of cosmetics |
| azulenes | products for sensitive and acne skin care; creams, masks, tonics, depilatory waxes |
| saponins | biosurfactants with stabilizing foams and emulsions; shampoos, foam baths, toothpaste |
| essential oils | perfume, aromatherapy, cosmetic, massage and bath products |
Flavonoids are pigments widespread in flora, which strengthen blood vessels, act as UV-filters and have anti-inflammatory and antioxidant effects. The most important flavonoids in cosmetology include rutin, quercetin, hesperidin and kaempferol. The examples of the plants rich in flavonoids are the following: Tilia cordata, Sambucus nigra, Chamomilla recutita, Viola tricolor, Ruta graveolens, Ginkgo biloba.
Anthocyanins, called also anthocyanin glycosides, have anti-inflammatory, anti-swelling, antibacterial properties, free radical scavenging and micro-blood vessel fortifying actions. The plant sources of anthocyanins include Vaccinium myrtyllus, Ribes nigrum, Aronia melanocarpa, Vities vinifera, Sambucus nigra, Centaurea cyanus.
Tannins are nitrogen-free natural substances, which have astringent, antibacterial and anti-inflammatory effect. They also reduce the secretion of sebum and strengthen skin. One of the most well-known is the tannin contained in the bark of the oak. Plants rich in tannins include Quercus robur, Vaccinium myrtillus, Camellia sinensis, Hammamelis virginiana, Betula pendula, Potentila erecta.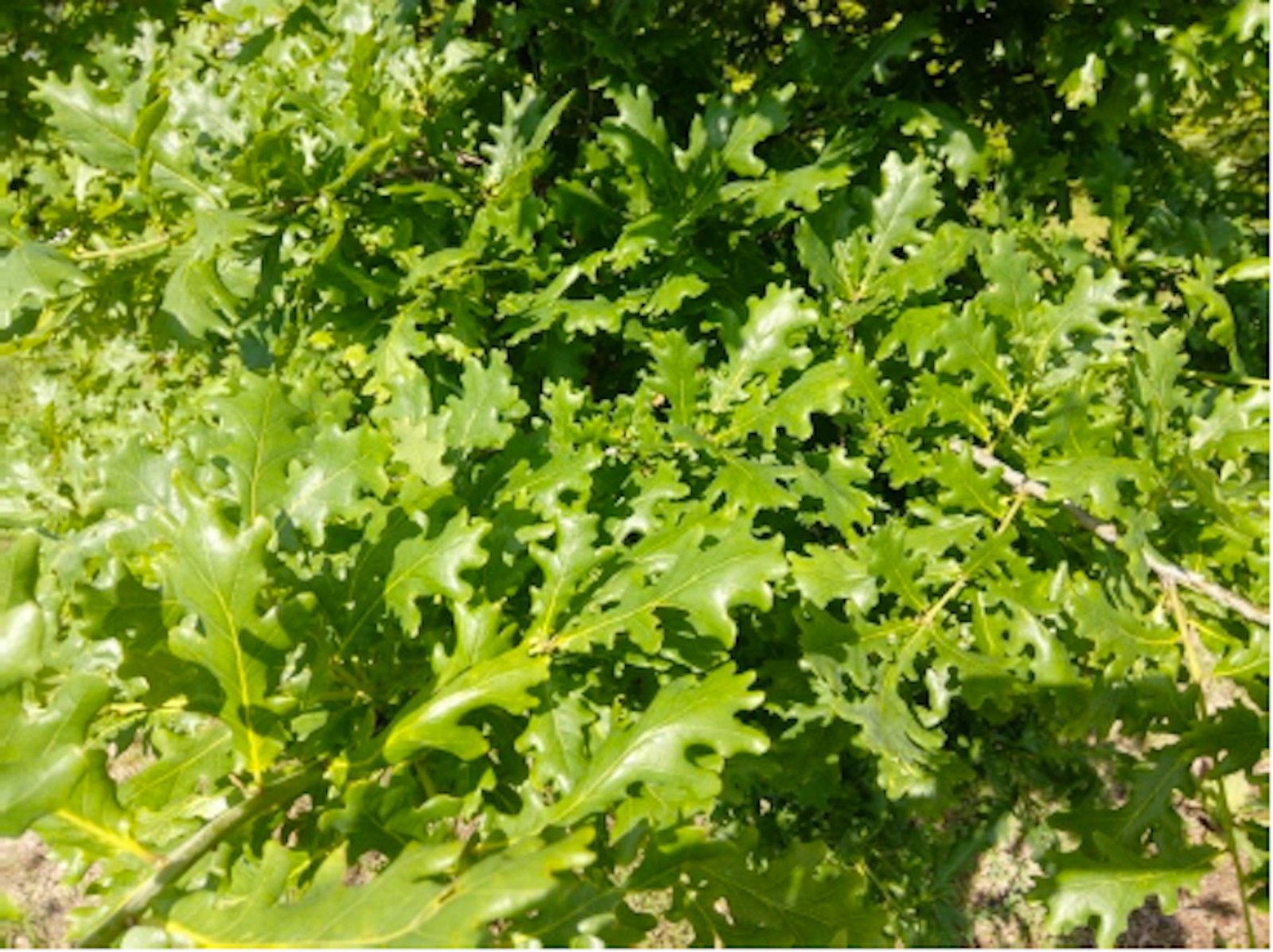 Quercus robur L.
(source: M. Michalak, Botanical Garden Geopark Kielce)
Mucilages and pectins are mixtures of polysaccharides with high water binding capacity. In cosmetics, they are used as coating, protective and softening agents. They make skin more flexible and have a refreshing, soothing and antipruritic effect. Abundant supply of mucilages constitute, for example, Althaea officinalis, Linum usitatissimum, Plantago lanceolata, Tussilago farfara, Trigonella foenum-graecum, Verbascum densiflorum, Aloë vera, Malvae sylvestris, Symphytum officinale.
Azulenes are hydrocarbon compounds that have anti-inflammatory, anti-allergic and soothing effect on irritated skin. The most famous example is chamazulene – a component of chamomile flowers.
Saponins are natural plant products that have the ability to lower the surface tension of liquids. Saponins facilitate the formation of colloidal solutions and the absorption and secretion of compounds sparingly soluble in water. In cosmetics, they are used for gentle cleansing of sensitive and aging skin. Furthermore, most saponins have anti-inflammatory and anti-allergic properties. Plants containing saponins include Saponaria officinalis, Aesculus hippocastanum, Arctium lappa, Primula veris, Calendula officinalis, Panax ginseng, Solidago virgaurea, Verbascum densiflorum.
Essential oils are multi-component mixtures of various chemical compounds characterized by strong fragrance. Essential oils have antibacterial, antiseptic and anti-inflammatory properties. In addition, they improve blood circulation and the structure of skin, as well as rejuvenate and regenerate it. Essential oils can be extracted from such raw materials as Rosae flos, Salviae folium, Cinnamomi cortex, Lavandulae flos, Melissae folium, Melaleucae folium, Rosmarinii folium, Pogostemonis herba, Santali lignum.
Vitamins are a group of organic substances with a very diverse chemical structure. Due to their physicochemical properties, they are divided into fat-soluble (A, D, E, K) and water-soluble (C, B1, B2, B3, B6, B5, B12, H) ones. Vitamins affect the overall condition of skin, improve its color and flexibility, slow down the aging and regulate the keratinization processes. They also have moisturizing, antioxidant and anti-inflammatory effect. Among the plants that supply vitamins used in cosmetics, Aronia melanocarpa, Citrullus lanatus, Cucurbita pepo, Daucus carota, Hippophaë rhamnoides are worth a mention.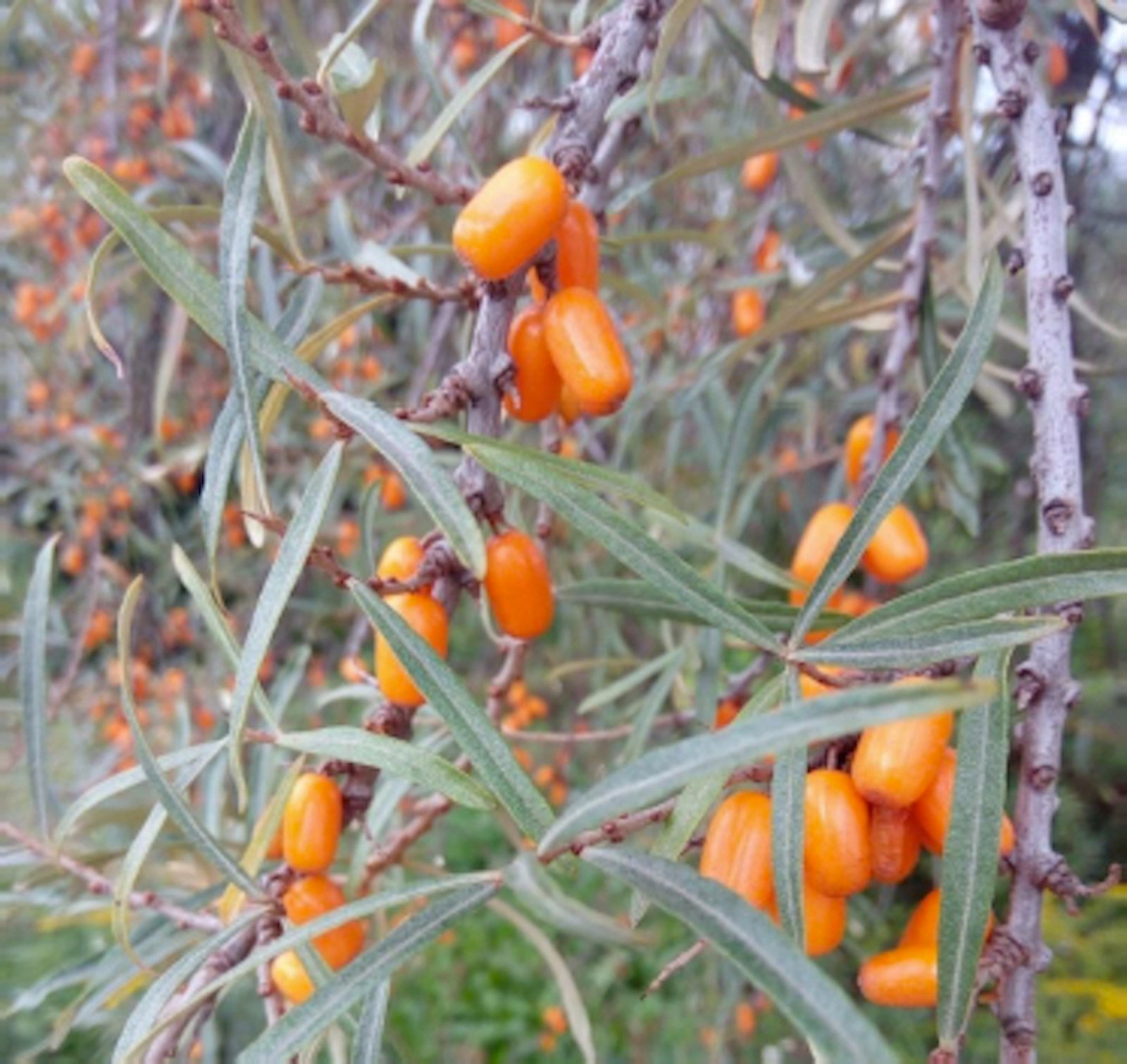 Hippophae rhamnoides L.
(source: M. Michalak)
Botanicals show diverse effects, including antioxidant, anti-inflammatory, soothing, healing, brightening, moisturizing, astringent, anti-wrinkle, antifungal, antibacterial and antiviral as well as they can strengthen blood vessels and act as UV-filters. Plant extracts are important ingredients of natural cosmetics used in skin care, hair care and recommended in the case of various skin defects (tab. 2, 3).
Table 2. Botanicals used for skin care and recommended in selected cosmetic defects of the skin
| Indications | An example of plants used in cosmetology |
| --- | --- |
| dry skin | Aloe vera, Rosa canina, Trigonella foenum-graecum, Linum usitatissimum, Calendula officinalis, Olea europae, Borago officinalis, Symphytum officinale, Althaea officinalis |
| oily, combination, acne skin | Arnica montana, Sambucus nigra, Aesculus hippocastanum, Ginkgo biloba, Hamamelis virginiana, Calendula officinalis, Chamomilla recutita |
| hyperpigmentation | Arctostaphylos uva-ursi, Bergenia crassifolia, Bergenia cordifolia, Pyrus communis, Vaccinium vitis-idaea, Calluna vulgaris, Glycyrrhiza glabra, Carica papaya , Scutellaria baicalensis, Petroselinum sativum, Betula pendula, Paeonia suffruticosa |
| mature skin, with the signs of ageing | Acmella oleracea, Humulus lupulus, Panax ginseng, Borago officinalis, Ginkgo biloba, Rosmarinus officinalis, Echinacea purpurea |
| skin of children and infants | Matricaria chamomilla, Oenothera biennis Borago officinalis, Olea europae |
| cellulite | Arnica montana, Sambucus nigra, Camellia sinensis, Aesculus hippocastanum, Ginkgo biloba, Ilex paraguariensis, Centella asiatica, Hedera helix, Citrus paradise |
| excess of body fat | Sambucus nigra, Hedera helix, Centella asiatica, Orthosiphon aristatus, Ilex paraguariensis, Melilotus officinalis, Cynara scolymus |
Echinacea purpurea (L.) Moench.
(source: M. Michalak, Botanical Garden Geopark Kielce)
Table 3. Botanicals used for hair care
Indications
An example of plants used in cosmetology
dry and damaged hair
Argania spinosa, Ricinus communis, Aloe vera, Tilia cordata, Olea europae, Vitis vinifera, Oenothera biennis, Macadamia ternifolia, Adansonia digitate
oily hair
Quercus robur, Camellia sinensis, Hamamelis virginiana, Equisetum arvense, Lavandula officinalis, Melissa officinalis, Rosmarinus officinalis, Salvia officinalis
dandruff
Symphytum officinale, Artemisia vulgaris, Arctium lappa, Mentha piperita Urtica dioica
hair loss
Rosmarinus officinalis, Adansonia digitata , Urtica dioica, Capsicum annuum, Symphytum officinale, Equisetum arvense, Arctium lappa
light hair
Chamomilla recutita, Calendula officinalis, Citrus limon, Rheum officinale
dark hair
Aesculus hippocastanum, Quercus robur, Juglans regia, Salvia officinalis
red hair
Calendula officinalis, Hibiscus sabdariffa, Trifolium pratense, Curcuma
longas
The research challenges focus on finding new bio-actives, which will provide proper moisture balance, efficient hydration, proper exfoliation, effective circulation, enhanced lymphatic functions and detoxification of the skin. We are seeing an influx of patented botanical/bio-based raw materials, silicone and preservation alternates in the market that are rapidly changing the cosmetic landscape. Advanced engineering and bio-technology will ensure that these marvellous natural chemicals receive serious consideration and importance when it comes to high-effiacy formulations within the beauty niche.
Monika Michalak
References:
Stallings AF, Lupo MP. Practical uses of botanicals in skin care. The Journal of Clinical and Aesthetic Dermatology 2009, 2: 36-40
Michalak M. Aromatherapy and methods of applying essential oils. Archives of Physiotherapy and Global Researches 2018, 22: 25-31
Dorni Ch, Amalraj A, Gopi S, Varma K, Anjana SN. Novel cosmeceuticals from plants-an industry guided review. Journal of Applied Research on Medicinal and Aromatic Plants 2017, 7: 1-26
Fatima A, Alok S, Agarwal P, Singh PP, Verma A. Benefits of herbal extracts in cosmetics: a review. International Journal of Pharmaceutical Sciences and Research 2013, 4: 3746-3760
Ribeiro AS, Estanqueiro, Oliveira MMB, Lobo JMS. Main benefits and applicability of plant extracts in skin care products. Cosmetics 2015: 48-65
CutiConscious™© Copyrights reserved.