The medicine cabinet of Nature is awe inspiring. The pharmacopeia of Nature is beyond doubt one of the most efficient. It deserves serious attention and more studies need to be conducted so that we can standardize care and treatment. Even though I have trained as a classical medical physician, I have never stopped believing in the science of Nature. It is interesting to note that many skin disorders are chronic, painful and debilitating and the drugs can take a toll on your system.
Think out of the box and visit a Naturopathic Practitioner or Homeopathic Doctor. Due to the chronic nature of skin disease, a more holistic and natural approach is more beneficial in the long term management of your problem.
Such is the case with skin care products. We must start thinking 'green' when it comes to what we put on our skin. The skin is not impermeable. It absorbs a lot of the substances we apply and they eventually enter the bloodstream. Select your products wisely. But remember, since you are taking a path ordained by Nature, don't expect overnight results. It will work gently yet deeply, cleansing your skin and body the way it was meant to be.
Many of us suffer from oily-acne prone skin. Many of us cannot tolerate harsh over the counter products or prescription medications either because our skin is sensitive or health challenged.
I was asked to review Tilth Beauty products.
This is how they can help.
Making this a regular part of your skin care routine will reduce comedones (blackheads and whiteheads) from progressing into a more inflammatory pustular stage. This can be part of your daily home care routine which can complement your prescription treatment for oily skin or mild acne, or can be used as stand alone therapy. The main reason people don't see improvement in acne management is that they take the prescription medicine and forget about everything else. It does not work that way. Home care is the key to keeping your skin clean and clear. Skin hygiene will prevent inflammation and worsening of the condition and keep oil levels in check. Don't be aggressive with your daily skin care routine, as this will irritate your skin further and cause increased sensitivity.
Moderation is good.
Please read my tips on acne in the previous article and if you have moderate to severe acne please consult with your dermatologist right away and do not attempt to self treat.
Use Rose Protection Cleansing Gel by Tilth Beauty
I like to recommend a natural soft facial brush when ever cleansing your face. This will provide a massaging rotational action which will aid in penetration of the cleanser deeper into the oil glands of the skin, hence increasing effectiveness of the actives plus loosening the keratin plug that is the culprit of comedone formation. Rose Flower Extract (Rosa Gallica) has been known for centuries to possess medicinal properties. In the old world it was known as the 'Queen of Flowers'. It has high amounts of Vitamin C, vital to cellular function and cell renewal plus has been shown to have astringent and calming properties. In the olden days, rose water was applied to red inflamed skin to calm it down. Rose extract was a gold standard for skin care in the Eastern civilizations and is still used today by many traditional herbalists.
Rub some Gentle Poppy Seed Exfoliator by Tilth Beauty
Using the same gentle rotational movement, avoiding the delicate eye area, sprinkle this very well formulated natural exfoliator onto the tips of your finger or facial brush and carefully scrub your face, concentrating on those little black/whiteheads. The main purpose of this step is that it will very gently remove excess sebum, debris, dead cells, pollutants and remnants of make-up, and reveal a deeper layer of the epidermis, minus the muck, making penetration of the actives much more efficient. This is more of a physical action and the fine Poppy and Date seed granules will act like small micro-brushes, removing all that is not needed and retaining the important oils of the skin. The Jojoba Esters will provide sufficient moisturization and not strip the skin of essential oils, therefore you will not have excessive drying or irritation.
Dab a little Aloe Restoration Toner by Tilth Beauty
Take a natural cotton pad, and dab this toner all over your face. The actives in the toner will reduce inflammation, erythema and will balance your skin just perfectly, regulating oil production, calming and protecting your skin from deep within. It also has a unique ingredient that will regenerate cells, deliver vital nutrients to increase cellular health, therefore new cells mean rejuvenated, purer, cleaner skin.
Lastly apply A Flawless Serum by Tilth Beauty
Take a small amount on your fingertips and apply all over face and neck area and if you have oily acne prone skin, concentrate on the T-Zone of your face. The actives in the serum will promote cellular turnover. Slowly over time it will push worn out cells and Keratin plugs upward and out, revealing a new layer of healthy fresher skin that is clear, with less amounts of hyperpigmentation and optimal oil control.If you are a vegan, suffer from health challenged skin, tired of over the counter remedies for oily skin that contain a number of harmful chemicals and yearn for a more holistic approach to managing oily acne prone skin, give these natural products a try. Please do not expect instant miracles. These are naturally derived products, they will work with you and not against your body. Within a month you should start noticing a difference and improvement in your skin quality.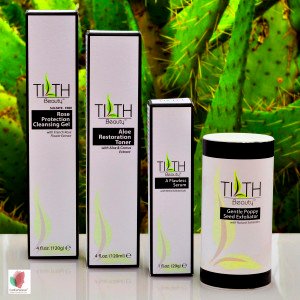 Drink plenty of water, avoid stress and foods that you feel might aggravate the issue and respect life.
Now you are on your way to clear skin– Naturally.
Peace & Joy
Images and Article
Copyrights Cuticonscious™
References:
The Modern Herbalist
Harpers Biochemistry
Rook and Ebling, 3rd Edition
Du Vivier, Altlas of Dermatology, 3rd Edition
All images and concepts, protocol- CutiConscious™